Out of home animation 2023
Electricity is scarce, you shower with cold fountain water and the stars appear as clear as ever – Out of home animation feels like escaping society for a few days, leaving all your day – to – day stress over 1000m below.
The OOHA experience started with a little hiking adventure. We enjoyed the view and got to meet all the wonderful people who joined the workshop from all over Europe. After three hours of walking uphill, and finally crossing the "DEATH VALLEY" (which is really just a slightly steeper pathway with some rubble), we had finally reached the Fromatthütte!
There, we received a warm welcome by Elena and Felix. They had already prepared food and cold drinks for everyone, which was highly appreciated. After dinner, we all needed some well-deserved rest.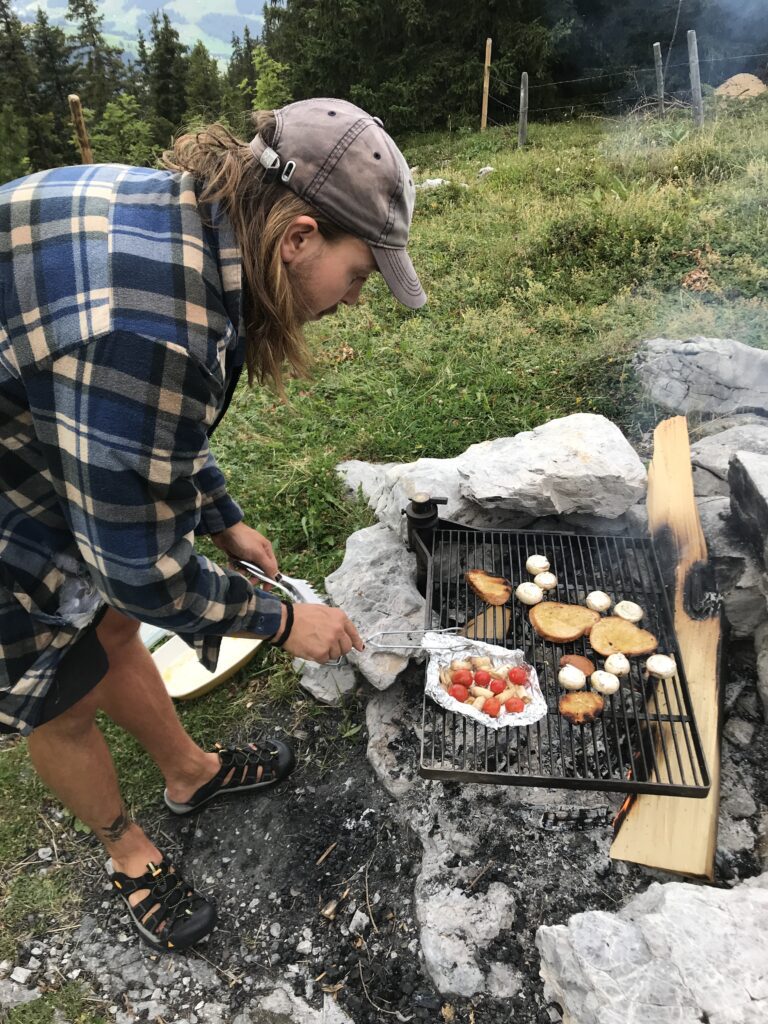 The morning of the second day, Ewald, who grew up in the area, came to visit us. He told us fairytales about an infinite chunk of cheese, showed us where the dwarves have champaign parties and where the military tested grenades in the 80s. On an excursion through the underwood, he taught us a lot of interesting facts about the local fauna and flora.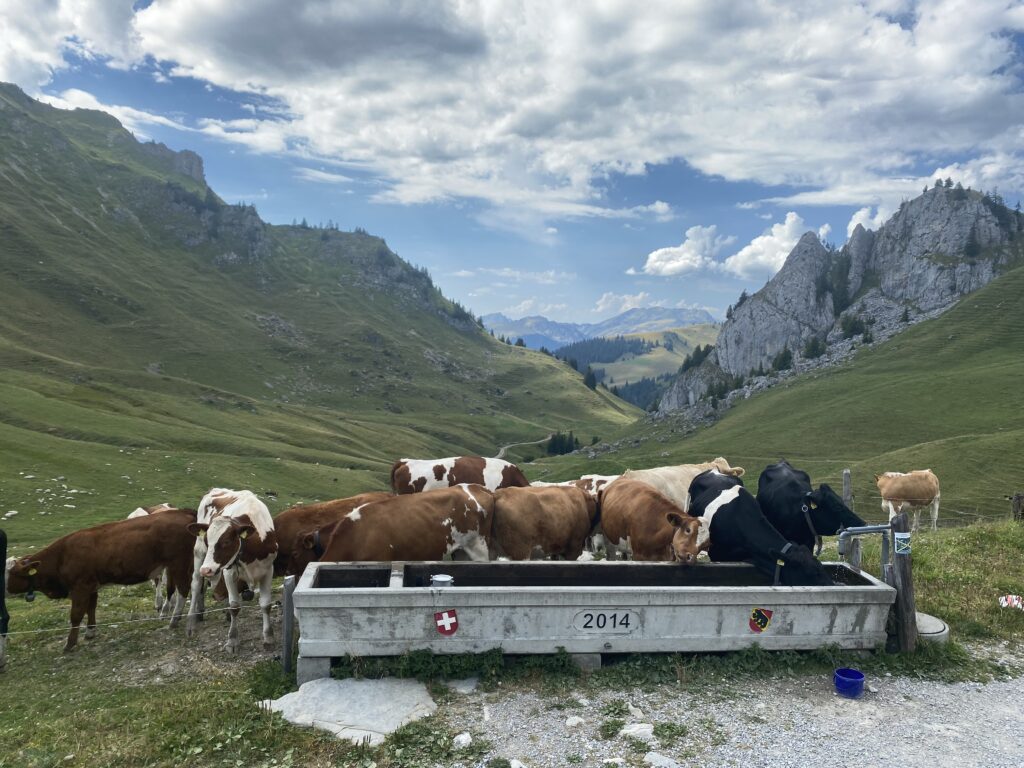 Filled with inspiration, we then finally started gathering material for our projects. Some built puppets or knitted tiny outfits out of moss and grass, while others tried to lure butterflies with margarine.
We all embraced and collaborated with our surroundings to create films. Throughout the week, there were several inputs and screenings to spark new ideas. During the process I felt low pressure but very high creative energy. It was like a long needed mental reset for filmmaking.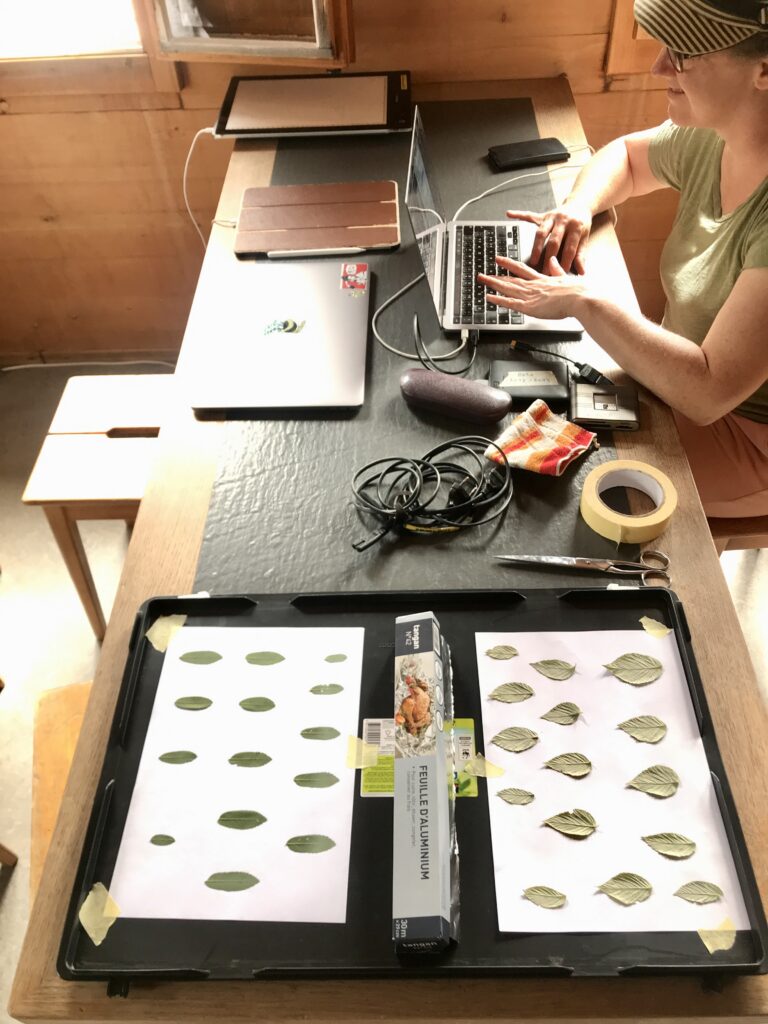 The following days we got to know each other. We cooked and ate, played games, doodled and talked, and made movies together. The People at the Fromatt were very sweet and fun. It felt great spending time with such inspiring fellow artists!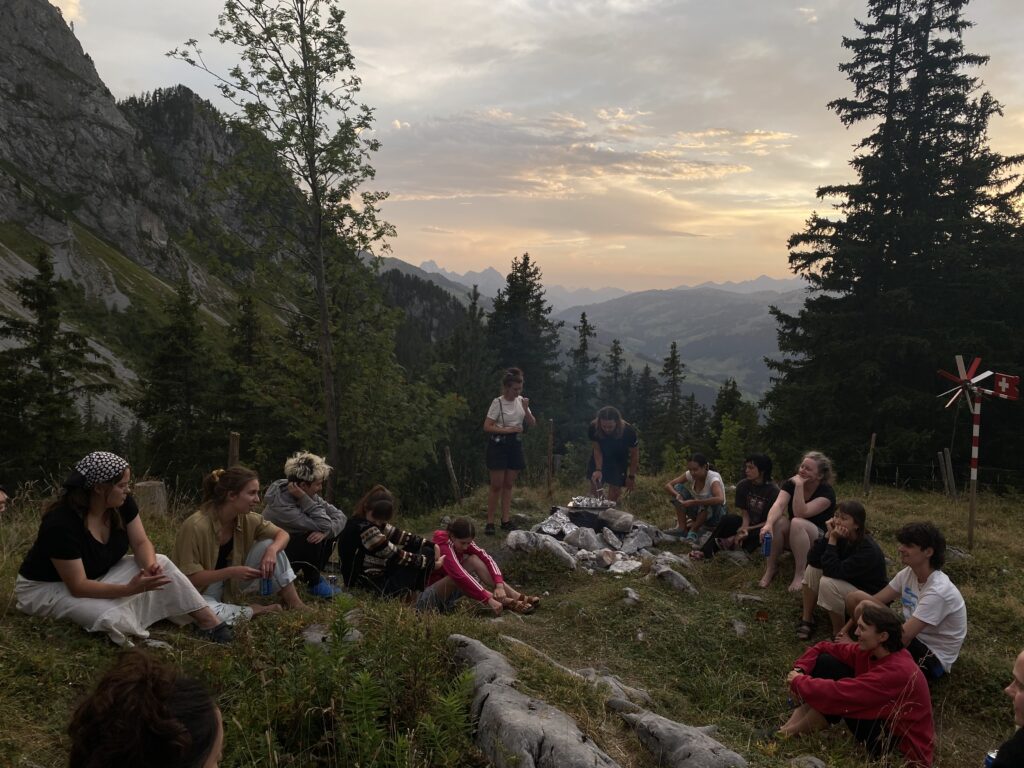 In the middle of our stay, we went on another hike, to the Seebergsee. As it was a rather hot week, we were all happy to go cool down in a mountain lake. We were greeted by some lovely ducks who seemed very happy to see us. However, this took a turn when they started attacking us for food! Their mission succeeded, when they stole Elenas sandwiches (twice!!) After burying the hatchet with the ducks, we went for another swim to the small island in the middle of the lake, before heading back to the Fromatt.
The trip was a well-timed break and gave us just the right amount of distance from our projects. In the evening, we presented what we'd been working on with a fresh perspective.
We had some vague ideas about what people were doing, since we always surrounded each other. But actually seeing everyone's progress gave us a new boost of excitement for the remaining time.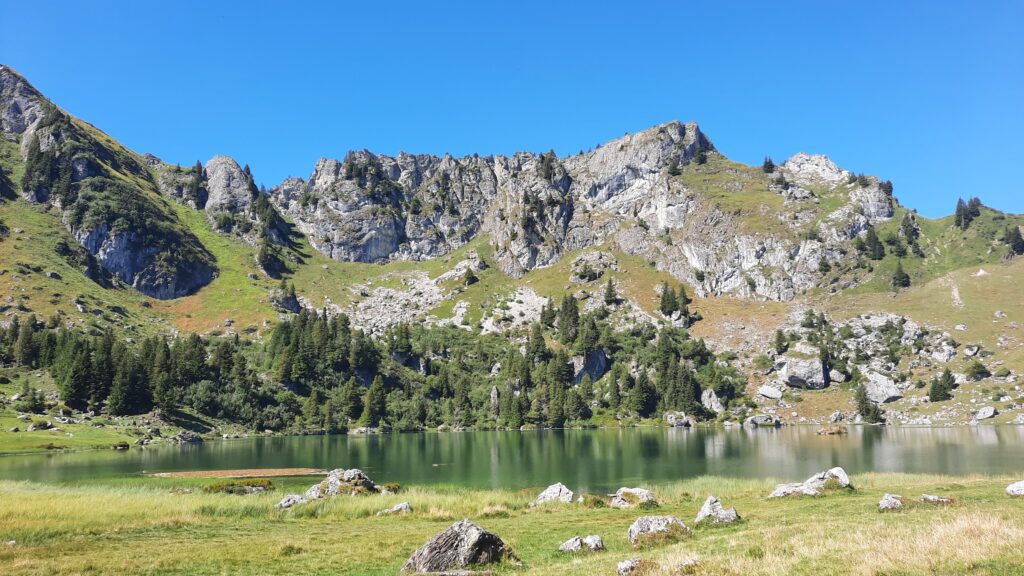 The last two days were spent mostly on our computers, where we processed the material we had gathered. All 20 people cozied up in one room and worked to the humming sound of the generator. We closed the last evening with a final screening of our progress.
With that, out of home came to an end. We played our last few rounds of Brändi Dog and got ready for bed.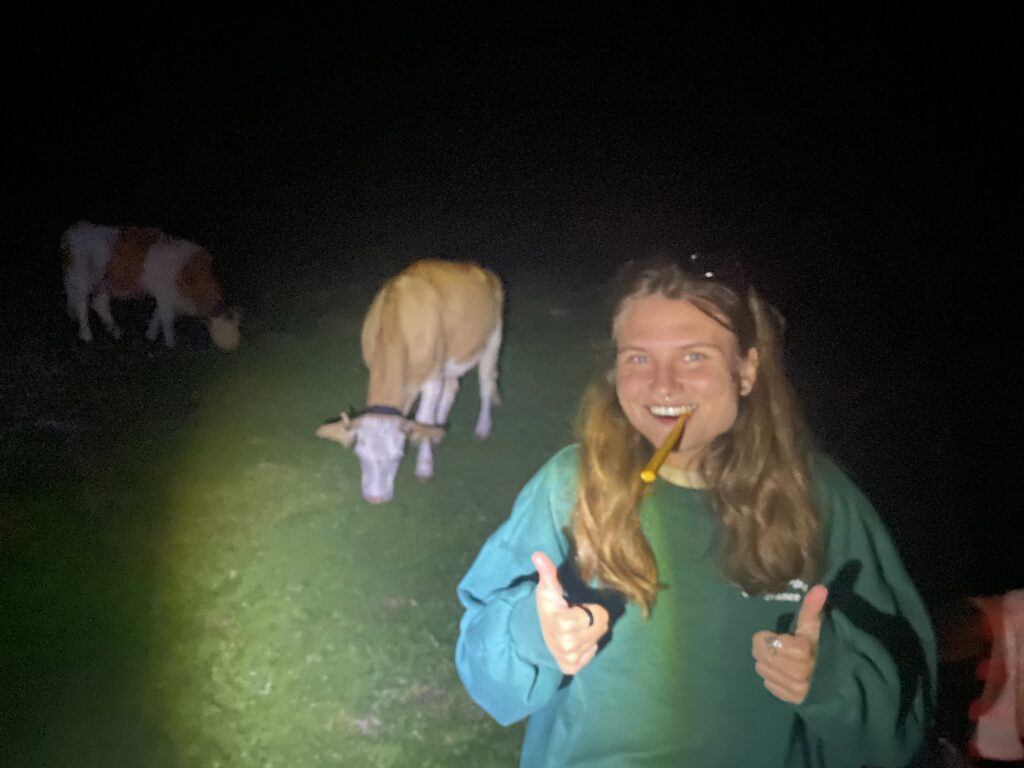 In the morning, after everything was packed and the hut was cleaned, Godi came to pick up our luggage as we began the hike downhill. Shortly before arriving at the train station, some of us took the chance to buy some yummy local cheese. Then it was already time to say goodbye.
Some of the students from abroad stayed in Lucerne for a few more days. We made some fondue for the full Swiss experience, showed them around the city and doodled together for one last time.
Now summer is over. The semester has already started again, and I'm sitting in my atelier writing this text. The screening of the final OOHA films is only a month away and (although my own film still needs some work) I'm very much looking forward to seeing how everyone's project came out in the edit!
I hope to carry as much of the OOHA spirit as possible into our graduation year. It was such a great experience, and I would 100% go again if I could! Thank you to everyone who participated, but especially Maja, Elena and Felix for making this so special!
(PS: In case you're reading this before the screening: Be at the Rex the 26th of October at 17.00 to see our films!)
What the participants had to say about OOHA 2023:
«Out of home animation was the best summer experience! I really got the chance to find myself in this beautiful mountain nature and to learn to understand better my emotions and use them in my art. This workshop really helped me in exploring my boundaries in animation and made me become much more confident in experimenting. But the best part was definitely the people I got the chance to meet. They were all really cool and kind and accepting which made me feel like I could really open up to them.»
Eliška
«Meine Woche im OOHA in der Berner Bergwelt war das reinste Träumli. Jeden Morgen eine heisse Tasse Kaffee mit der wunderschönsten Aussicht, jeden Tag eine eiskalte Dusche aus dem Brunnen und jederzeit umgeben von ganz tollen und kreativen Menschen. Wie üblich im OOHA haben auch wir Filmprojekte umgesetzt. Dies jedoch ganz ohne Druck und mit sehr vielen Freiheiten. Es hat mir sehr grossen Spass gemacht und ich werde noch lange von dieser Zeit zehren. Vielen Dank!»
Laura
«t was one of the most beautiful experiences of the whole year. In the middle of the Swiss mountains, I completely lost track of time and just enjoyed the joy of creating with amazing, smart and funny people. Thank you very much for the opportunity to participate in this workshop!»
Klára
«For the project during out of Home I was in a team of two. That was very nice because we were not pressuring ourselves and just had a lot of fun working together, using the phone to make some pixilation of each other with the wide angle lens (I dunno if that's the actual English word for it?).
Also It was lovely to meet so many new and awesome animation people from other countries. I really enjoyed the time in the mountains with them:)»
Luzia